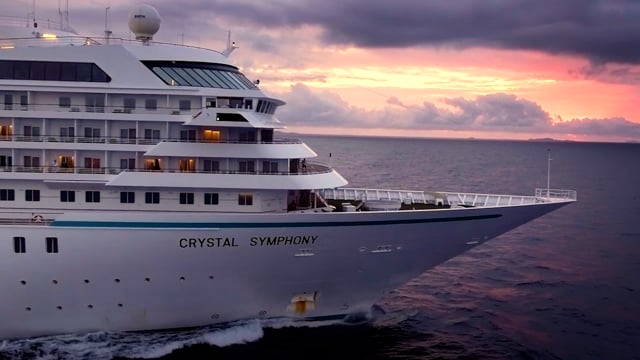 Cruise Itinerary
Kappa Sigma and 12th Gate Napa Valley are proud to offer you this amazing itinerary!
Day One | Monday, October 10, 2022
Embark onboard the luxurious, 848-guest Crystal Symphony in Venice, Italy, one of the world's most enchanting cities.
Join fellow Kappa Sigma Alumni for a Bon Voyage toast as the Crystal Symphony overnights in Venice.
Day Two | Tuesday, October 11, 2022
Known as the "Queen of the Adriatic" and one of the world's most enchanting cities, Venice is comprised of over 100 separate islands and a labyrinthine network of canals laced together by a string of 400 intricate bridges. The whole city and its lagoon are designated as a UNESCO World Heritage Site.
Renowned for its art, architecture, and culture, a whimsical stroll through the city leads to a hidden world of ornately decorated piazzas and a legacy of Baroque architecture. Admire the richness of St. Mark's Basilica and the extravagance of the Palazzo Ducale. Visit the unforgettable Basilica di San Marco and Doge's Palace, take a gondola ride down the Grand Canal, or visit the nearby artisan islands of Murano and Burano. Let your water taxi do the navigating for you. After all, getting lost isn't such a poor prospect when unexpected discoveries lie around every corner.
Day Three | Wednesday, October 12, 2022
Dubrovnik is one of the most distinguishable cities in Europe. Enclosed by medieval stone walls, Dubrovnik's Old Town, a UNESCO site where no cars are allowed, is an enchanting place of cobbled streets, Venetian-style buildings, a rich Slavic culture, and many centuries of history. Walk atop the city walls, take a cable car to the top of Mount Srd, or visit the 15th-century Rector's Palace. Dubrovnik will leave an enduring impression on all your senses with its sweet-smelling lavender, delectable olive oils, and beautiful beaches.
Day Four | Thursday, October 13, 2022
The small Ionian island of Corfu is known for its preserved fortifications, Venetian architecture, and lush scenery. Immerse yourself in this practically unspoiled island swathed with olive and cypress trees. Explore Old Town's 15th-century fortress, visit the ornate Achilleion Palace, or spend time in the crystalline water at one of Corfu's many beaches. One of the Mediterranean's best-kept secrets, Corfu's chic downtown area, tranquil beaches, and balmy winds will leave you feeling mesmerized.
Day Five | Friday, October 14, 2022
Kotor rests in a secluded part of the Gulf of Kotor. Breathtaking fjord-like views make this one of Montenegro's most beautiful bays. The bright red rooftops of the medieval Old Town are a stunning contrast to the greens and blues of the Adriatic Sea. The old port, surrounded by an imposing city wall built by the House of Nemanjicc, is incredibly well-preserved.
UNESCO has designated the whole area as a World Heritage Site. Fortifications dating from the 9th century, churches and cathedrals from the 12th-15th centuries, the 17th-century Prince's Palace, and the 19th-century Napoleon's Theatre are all unforgettable pieces of history you will see in the city squares while you appreciate the vast ocean views from afar.
Day Six | Saturday, October 15, 2022
Split has a prestigious reputation for impressive architecture, famous museums, and cultural constructs that should not be missed. The largest and most majestic Croatian city on the Adriatic coast, Split achieved fame when the Emperor of Rome, Diocletian, had his retirement palace, now a UNESCO World Heritage Site, built in the center of town.
Within the palace walls, a grand cathedral towers above the polished marble streets lined with every type of tempting shop. The magnificent stone edifice and its grounds and cellars are a major feature of any city tour. Another point of interest is the Mestrovic Gallery, where the notable works of Croatian sculptor Ivan Mestrovic are available for viewing in this home and atelier. If you're longing for a quiet respite, head for the western end of town for an easy stroll through a verdant mountain park. Or take a tour to Trogir, another UNESCO site.
Day Seven | Sunday, October 16, 2022
Overtaken by numerous powers over the centuries, including Venetian, Austrian and Yugoslavian, Koper reveals its unique story in its architecture, including the remains of the main door of the once-grand fortified walls and the many preserved buildings dating from the 15th to the 18th centuries. A walk in the old Venetian quarter truly gives a sense of both the city's history and future, as restoration of the elegant buildings is underway.
Day Eight | Monday, October 17, 2022
Disembark the Crystal Symphony for your return flight home.
Pre-Cruise
Tour
Click the button below to view our exclusive Kappa Sigma Bologna Pre-Cruise Tour.